Luxurious Accommodation in Hua Hin
SO Sofitel Hua Hin brings one of Thailand's most popular beach destinations to your entire family with playful yet luxurious accommodations that encourage you to have fun and enjoy the design and art of this imaginative beach resort hotel while pampering yourself and your family with SO Sofitel's distinctive art de Vivre and unique amenities.
All rooms at our unparalleled Hua Hin family hotel have a complimentary in-room mini-bar with a selection of local snacks, herbal drinks and fruit selections to satisfy all your family members, as well as an espresso machine. The immaculate bathrooms have separate full-size marble bathtubs, plus a Rain Shower system with enough pressure to enjoy a Hydro Massage. All rooms have Chromecast so that everyone can easily access multiple streaming services, from Netflix or YouTube to browsing around your favorite websites. All rooms also come with a digital safety deposit box, daily refill of the in-room private bar, beach sandals and yoga mats.
________________
The most stylish family hotel Hua Hin has welcomes your family with three smart types of family room, Hua Hin perfection in every one!
Our family-oriented SO Family rooms all have high ceilings with 60 sq. m of space to allow plenty of room for up to 2 adults and 2 children, with a dedicated bunk bed for the children and decoration in an imaginative SO Arty or serene SO Nature style.
Our high-in-demand SO Family Kids House is designed for families with older children in mind. It comes with all of the above, plus its own private cabin connected to the main room on the ground floor. The kids' cabin comes with colorful bunk beds, toys and kids' entertainment. Meanwhile, the parents can indulge in their connected bedroom decorated in a SO Arty or SO Nature style.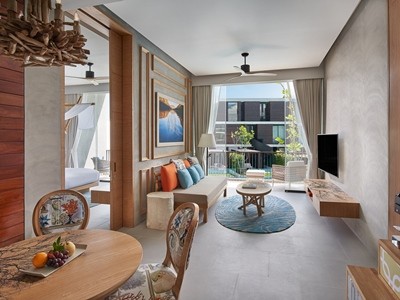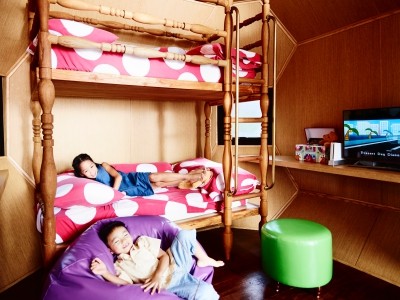 And then there's our new Family Suite, the Hua Hin family room that will make you want to never go home. With 100 sq.m on the second floor next to our Signature Pool, the suites feature a living room with a dining area, master bedroom, open plan bathroom, guest bathroom and kids' room with bunk beds. The two balconies of the suite overlooking the pool feature frameless floor to ceiling windows for maximum daylight, plus a 55" Smart TV. The suite is suitable for parents with older kids who can sleep in bunk beds (up to the age of 12), there is also space for an extra adult on the sofa bed at extra charge. For extended families, the suite offers a connecting room to a SO Studio.
________________
For the ultimate in family fun we have our 260 sq.m Two Bedroom SO Pool Villa, perfect for families and friends, with a master bedroom, a guest bedroom with Hollywood twin or King bed, and two bathrooms. The living area features a couch and dining table. Enjoy your privacy with outdoor seating around a 3×9 meter private pool.
________________
Fun Family Activities in the hotel
SO Sofitel Hua Hin is a paradise for active families, with a barrage of activities happening every day of the week. With one of the best family resort beaches in Thailand, beach sports are right at your doorstep, but there is also so much more going on right inside SO Sofitel's lavish grounds.

Experience Thailand's first Wibit inflatable obstacle course in a five-star swimming pool, the perfect challenge for anyone who thinks they have great balance. Wibit is recommended for children age 7 and up, and adults who would like to be 7 again. For your safety the pool starts at a depth of 1.2m and goes up to 1.7m, life jackets are available in various sizes with a lifeguard present during pool hours from 7am – 9pm.
________________
Discover a Harry Potter/Alice in Wonderland themed mini-golf adventure with friends and family, the 18-hole course is free of charge and open daily for all guests, with equipment on loan at the Kids Tent. The magical forest layout provides a family activity to spark everyone's imagination, challenging players of all skills and levels of experience.

Our Kids Tent offers fun-filled activities and entertainment in a safe setting that is decked out in safari style with plush seating. Just a sample of the family activity list that will keep family members of every age entertained include Giant Canvas Painting, Nail Painting, Kids Pizza Cooking Class, craft your own zebra, or relax with some PS4 games, Nintendo Switch, and movies, or just enjoy a swim in the ball pool. Our Kids Tent is open daily from 9 am – 7 pm with a dedicated ambassador always on hand.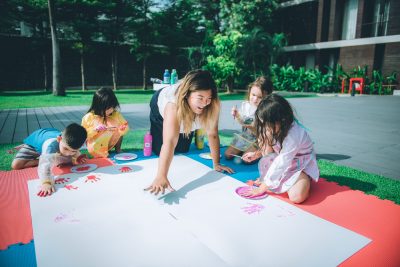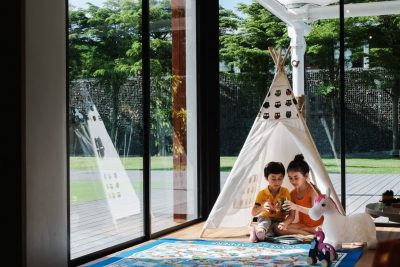 All this family fun can make one thirsty, so conveniently situated right at poolside is SO Sundae, the place to quench your thirst or grab a quick snack.

For older kids and adults looking to get seriously active, our Sports Court fits the bill with pickle ball, tennis and basketball. All the necessary sports equipment, and bicycles are available at the Kids Tent without any cost.

Special activities come upon each day, so watch for those, and while the kids are having their fun at the Kids Tent or playground, parents can enjoy SO/SPA while waiting.

Babysitting services are available upon request. And you're not limited to the hotel's attractions, reach other local attractions by using the hotel shuttle bus service from 8 am – 9 pm
* Please contact the Kids Tent for more information and reservation. All prices are subject to 10% service charge and 7% government tax. Babysitter is available 24 hours, THB 400 per hour per child. Please make a reservation 6 hours in advance.
________________
A Wide selection of food & drinks
Of course, family resort beaches have to have seafood, and here, SO Sofitel Hua Hin definitely doesn't disappoint. From the finest authentic Thai cuisine and fresh seafood to lazy meals and seafood BBQs on the beach, a wide selection of food and drinks are available at the hotel's four restaurants and bars.

Our unsurpassed Hua Hin family hotel will delight the senses of everyone in your family. Your escape is just waiting to be explored!
________________
Discover SO Sofitel Hua Hin special room offers for the next beach escape!